Turn hours of work into minutes
Process improvement
Increased productivity
Eliminate human error
Reduce costs and working times
Learn how it works
Parsedoc

and everything it can do for you and your company
Do not waste any more time manually entering data
Automate your documents and start increasing your company's productivity with Parsedoc.
If you have any questions, we will help you! Forget about your document management
Automatic document recognition
Scalable system adapted to growth
Direct integration with your ERP The satisfaction of our customers is our guarantee
What they say about Parsedoc
"Parsedoc effectively meets the digitization of documents on the data of the trained models. We are very happy with the service"
Mara
Renewables & Environment CIO
"Essential for intensive back office work. The effectiveness of the software, fast reading and integration of documents in the ERP, have meant a 360 degree change in our department. The simplicity of the tool makes it much easier to use."
Manuel
Logistics and Supply Chain CTO
"Parsedoc gives you the possibility to integrate RPA with OCR. It also has great reading speed and data processing. The integration with API surprised us for its ease. The tool works perfectly."
Alexander
Managing Partner
"This tool has improved the efficiency of our processes. The interface is very intuitive and has been integrated with different systems with which we work. We have been able to reduce the workload in document management by more than half."
Francisco
Accounting Director
"The software has captured all the fields that we require without any error. We have reduced to a minimum the time we spend on invoice and delivery note management in our company, and without perceiving errors in the documents managed."
Sergio
Programme Development Director
"Thanks to Parsedoc, we have managed to significantly reduce the processing time of the documentation (mainly invoices), automating the introduction of the data into the management platforms that are usual for us."
Pilar
Financial service consultor
Parsedoc
Exponentia offers technological solutions to improve the productivity and profitability of your company.
With this purpose, we have developed Parsedoc, an automated document reading and processing system
Parsedoc, connected to the company's management systems, allows the reception, analysis and management of files commonly used in the company.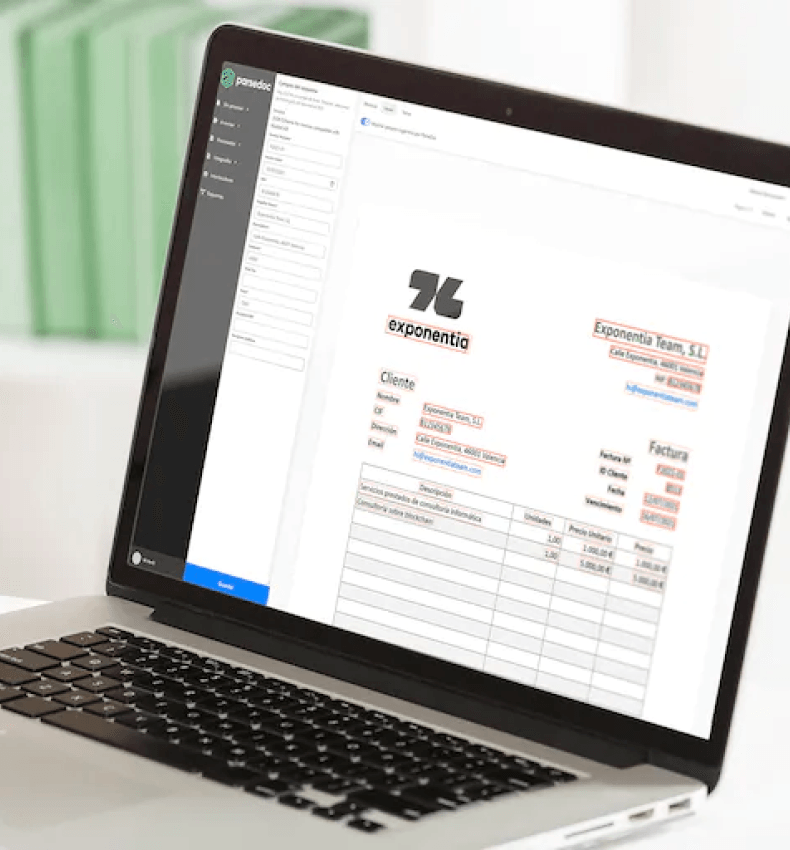 How can we help you?
If you want to know more about Parsedoc, you would like to apply it in your company or you simply have any other question, fill in this form and we will contact you as soon as possible.